Sleep Congress 2023 par Contributeur 17.07.2023 à 02h58
Sleep Congress 2023
The 2023 edition of the Sleep Congress organized by SFRMS and SPLF will take place in Lille from November 22 to 24.
The congress brings together experts from a wide range of disciplines to discuss and exchange ideas on innovations in normal and pathological sleep research, diagnosis, management and treatment.
As every year, the event features: 4 plenary lectures, 11 symposia, 1 news session, 3 symposia on fundamental sleep research, 8 practical workshops, satellite conferences and workshops, themed meetings, the presentation of several grants and prizes, over 80 exhibitors including the Sleep Village, the Start-up Village, the Networks and Training Area, the morning session of the French Society of Sleep Technicians (SFTS)…
New in 2023: 1 session on the latest SFRMS recommendations, 1 session on New Research and Young Researchers, a dedicated area for presentations and exchanges around oral communications and e-posters, 1 workshop for Young Researchers.
THE SLEEP CONGRESS® is a hybrid event: 100% face-to-face and 100% virtual. Participants can attend face-to-face and/or remotely, and view the sessions offline until May 31, 2024.
In parallel, on Wednesday November 22, before the opening of the Congress, the SFRMS Autumn Training sessions will take place.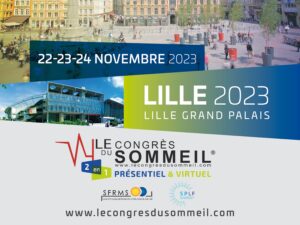 ---
Practical information
Place

Lille Grand Palais