Événements
18th International Conference of "Monitoring Molecules in Neuroscience" (MMiN 2020)
We are very pleased to announce the 18th International Conference of "Monitoring Molecules in Neuroscience" (MMiN 2020) that will be held from June 28th to July 1st 2020, in Lyon, France.The international MMiN meeting, previously known as « In vivo meeting », initially focused on methodological neurochemistry and continues to expand its scope to include all major techniques, such as voltammetry, microdialysis, pharmacology, electrophysiology, imaging, tomography, optogenetics/chemogenetics, and other manipulations of neural networks. MMiN also provides an excellent platform for presentations on emerging techniques that detect and track neuroactive or neurotransmitter-like molecules.
Over the years, this international MMiN meeting has continued to attract an excellent level of expertise of our regular participants. Importantly, MMiN has a reputation of welcoming new researchers and being an excellent platform for presenting cutting edge technologies.
The venue for the 18th MMiN meeting is at the Catholic University of Lyon (UCLY) in the center of the beautiful city of Lyon situated at the confluence of the Rhône and Saône rivers. Our meeting, hosting 250-300 delegates, is scheduled over three and a half days, including four plenary lectures, a dozen symposia, and two poster sessions. This venue includes a common space for poster presentations, exhibitor booths and coffee/lunch breaks and two amphitheaters for all talks. Similar to past MMiN conferences, this venue facilitates rich interactions between the participants.This 18th MMiN Conference will undoubtedly be an opportunity to establish new connections and forge fruitful and lasting links between the meeting participants, including students, post-doc, young and established researchers, and vendors.
Informations, program and registrations
Sandrine Parrot, PhD
Barbara Ferry, PhD
Co-Chairs of MMiN2020
---
Informations pratiques
Lieu

Lyon
25ème congrès de l'International Society for the History of the Neurosciences (ISHN)
L'évolution de la situation sanitaire au plan international a conduit le comité organisationnel à décider du report de cet événement à l'année prochaine, aux dates suivantes : 6 – 10 juillet 2021.
*****************************************************************
Le 25ème congrès de l'International Society for the History of the Neurosciences (ISHN) aura lieu à Rennes du 7 au 11 juillet 2020.
Regroupant des cliniciens (neurologues, neurochirurgiens, neuropsychologues, psychiatres ou pharmaciens) et des historiens, l'ISHN vise à promouvoir la recherche en histoire des neurosciences. Elle entend en outre favoriser la communication et la collaboration entre chercheurs, notamment au travers de sa revue, le Journal of the History of the Neurosciences – Basic and Clinical Perspectives et de son congrès annuel. Cet événement rassemble les acteurs internationaux du domaine, autour de communications libres (orales et affichées) et de symposia.
Les chercheurs sont invités à participer à l'évènement en proposant des symposia ou des résumés pour un poster.
Plus d'informations sur le site internet du ISHN
12th FENS Forum of Neuroscience
The FENS Forum of Neuroscience is Europe's largest international neuroscience meeting. The Forum scientific programme covers all domains in modern brain research. With 56 parallel symposia, more than 3,500 abstracts and 20 plenary and special lectures, the FENS Forum covers neuroscience from basic to translational research.
Early Registration Deadline: 18 February 2020
Full programme available at https://forum2020.fens.org/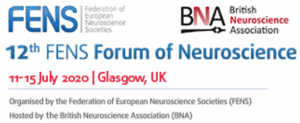 ---
Informations pratiques
Lieu

SEC Centre
Exhibition Way,
Glasgow G3 8YW, UK