Événements
Neurodevelopmental Disorders: From molecular mechanisms to social inclusion
In this 3 day symposium, experts from different areas of developmental neuroscience, human neuropsychology, epidemiology, brain imaging and genetics & epigenetics as well as clinicians will address the current state of neurodevelopmental disorders research, and its challenges for human health. We hope that by integrating neurodevelopmental perspectives and basic, translational and clinical approaches, this meeting will promote discussions and exchanges, and a new understanding of the complexity of these pathologies.
---
Informations pratiques
Lieu

Bordeaux
Printemps de l'interdisciplinarité – 1ère édition
Promouvoir le dialogue entre les sciences et sociales et les sciences expérimentales et formelles est l'un des objectifs prioritaires retenu par le Collège des sociétés savantes académiques de France.
Dans ce cadre, le Printemps de l'interdisciplinarité "Sapiens interdisciplinaris : engagé.e.s pour l'avenir" vise à mettre en lumière des expériences de pratiques interdisciplinaires entre champs traditionnellement éloignés. Cette manifestation, en lien avec l'Année internationale des sciences fondamentales pour le développement durable, est organisée du 7 au 9 juin 2022 à Paris, sur le campus Jussieu avec le soutien de Sorbonne Université.
Chaque demi-journée est l'occasion d'explorer la genèse et la mise en œuvre de projets interdisciplinaires. Dans chaque cas, un binôme de chercheuses et chercheurs issus de disciplines éloignées et travaillant ensemble présentera à deux voix les ressorts, les complexités et les apports des projets développés.
Archéologie, écologie, philosophie, science-fiction, environnement, physique, climat, santé, patrimoine scientifique, etc., de grands enjeux de notre époque seront abordés tour à tour au fil des sessions. Les organisateurs ont souhaité conclure ces journées par une table-ronde intitulée « Comment former à l'interdisciplinarité ? »
Ces journées sont destinées aux membres de la communauté de recherche et d'enseignement supérieur ainsi qu'aux étudiant•e•s en Master. L'inscription, obligatoire, est gratuite.
---
Informations pratiques
Lieu

Campus Jussieu, Amphi 24, Paris
MS Meeting 2022
Congrès sur la Sclérose en plaques – Paris
Programme et inscription: https://www.arsep.org/fr/337-ms-conferences.html
---
Informations pratiques
Ouverture

9h00 - 17h15
Lieu

Amphitéâtre Sorbonne Université
4 place Jussieu, Paris
Public cible

Professionnels de la recherche et de la santé
Moyens de paiement

Gratuit
Congrès International "Monitoring Molecules in Neuroscience", 29 juin au 2 juillet 2022
Pour la deuxième fois en France, Lyon accueillera le 18ème congrès MMiN après Bruxelles (2010), Londres (2012), Los Angeles (2014), Göteborg (2016) et Oxford (2018). Ce congrès s'intéresse à la compréhension du fonctionnement du cerveau normal et pathologique sur la base de l'étude des divers niveaux de communication chimique. Il représente une excellente opportunité pour les scientifiques de discuter du développement et des applications des outils de pointe émergeants dans la détection des molécules neuro-actives, tels que capteurs, microdialyse, imagerie moléculaire, optogénétique, chémogénétique, microscopie, utilisés dans un contexte de recherche expérimentale et/ou clinique. La transversalité permet ainsi de nombreuses interactions entre les scientifiques internationaux qui présentent leurs résultats.
---
Informations pratiques
Ouverture

8h - 17h
Lieu

Université Catholique de Lyon
Campus Carnot, 23 place Carnot
69002 Lyon
Public cible

Chercheurs, professeurs, ingénieurs, étudiants post-doc, thèse
Public, privé
Moyens de paiement

http://mmin2022.univ-lyon1.fr/en/pages/mmin-2022-home
Full rate 600 €
Reduced rate 330 €
Accompagnying person 240 €
NEURO2022
NEURO2022 is a joint conference of the Japan Neuroscience Society, the Japanese Society for Neurochemistry, and the Japanese Neural Networks Society. It will be held in Okinawa, Japan from June 30th to July 3rd, 2022.
Further information & programme
---
Informations pratiques
Lieu

Okinawa Convention Center
City Gymnasium
Laguna Garden Hotel
Okinawa, Japan
The 8th European Neuroscience Conference by Doctoral Students (ENCODS 2022)
The European Neuroscience Conference by Doctoral Students (ENCODS) is an initiative started by graduate students at the Neurocampus Bordeaux in 2013, to offer early-career neuroscientists a context for scientific exchange that suits their needs better than a large scale event. ENCODS in partnership with FENS (Federation of European Neuroscience Societies) is now a consolidated organisation, its programme encompasses plenary talks from both eminent and rising scientist where interaction is a key factor. The event is organised in a retreat-like fashion to help foster interaction in a more relaxed environment. During the event students have the possibility to train and improve skills that are critical during and after their PhD, to receive feedbacks and expand their network, building up new collaborations across borders. Every ENCODS meeting is unique and organised by a different committee of doctoral students internationally located and welcome European PhD students working in all fields of neuroscience.
This year, ENCODS 2022 will be held in Paris on July 7th-8th, before the FENS forum. For this edition, the theme of the conference is "Working Across Scales in Neuroscience". This theme aim to unite the early-career neuroscience community and remind everyone of the common goals we all share. By emphasizing the different spatial and temporal scales that, as neuroscientists, we aim to integrate, ENCODS 2022 want to promote synergic network, hoping that each attendee can reflect on their own contribution and appreciate that of others.
---
Informations pratiques
Lieu

Collège de France, Paris
FENS Forum 2022 Satellite Symposium in Lille, France
Lifelong effects of early life experiences on brain and behavior
It has been known for more than a century that the early life is a source of adult psychopathologies. However, the mechanisms underlying the enduring impact of early life experiences (such as nutrition, stress, and hormonal prenatal imbalances) on neurodevelopmental disorders still remain largely unknown. This satellite event will give an overview of our current knowledge on the neurodevelopmental, molecular, and epigenetic substrates mediating the effects of perinatal insults on neurobiological and behavioral outcomes ranging from metabolic and reproductive disorders to autism and Alzheimer's disease.
---
Informations pratiques
Ouverture

9h-17h
Lieu

LILLIAD Learning center Innovation
University of Lille
59000 Lille
Public cible

Scientist, undergraduate and graduate students, postdoc
Moyens de paiement

Registration fees include participation to the whole satellite event, coffee breaks, lunch
To register. Please fill the registration form found here (https://hypothalamus.eu/seminars-and-speakers/conferences/#FENS1 ) to sebastien.bouret@inserm.fr and send registration fees via the following secured link: https://secure.payzen.eu/vads-site/INSERM_LIL
FENS Forum 2022
Get ready to take an active role at Europe's largest international neuroscience conference, covering all domains in modern brain research from basic to translational research!
Organised by FENS in partnership with the Société des Neurosciences, the event will feature high-quality science from every domain of modern brain research. Over the course of five days, attendees will have unprecedented access to a range of symposia, technical workshops, plenary lectures and poster sessions. There will be multiple occasions throughout the meeting to shape the programme and share your research with your peers. Also on the agenda are a number of social events and networking opportunities to get to know your colleagues in a more casual setting.
Early registration and abstract submission open!
Visit the FENS Forum 2022 website and follow FENS on social media to stay updated (#FENS2022).
---
Informations pratiques
Lieu

Paris Expo Porte de Versailles
1 Pl. de la Porte de Versailles
75015 Paris, France
Summer school: Advanced tools for data analysis in Neuroscience – 2022
Research discoveries are increasingly dependent on the development of new tools and technologies, as well as on the ability to process, manage and analyze the large amounts of data collected with these tools.
In this summer school, we will focus on several aspects of data preparation and analysis, as well as on the use of simulation and modeling tools capable of generating predictions. These tools will be applied to different data acquisition techniques such as electrophysiological recordings (e.g. EEG, intra or extracellular recordings) or image series from brain imaging (e.g. MRI).
Target audience:
Master and PhD students from the University of Strasbourg and other French and foreign universities are welcome to apply.
Priority will be given to students enrolled in a basic or medical neuroscience program, but students from other specialties will be able to participate as long as places are available.
There is no registration fee.
During the school (Sep. 5-10th), accomodation (but not travel) during the school (but not pre-school) will be offered to non-Strasbourg students. Accomodation expenses during the pre-school and travel for the entire event are to be borne with own fundings.
Students are encouraged to come with their own dataset.
How to apply:
1 – Send an email to philippe.isope@inci-cnrs.unistra.fr to express your intention to apply
2 – When ready, send your CV and a letter of recommendation to philippe.isope@inci-cnrs.unistra.fr
Full application deadline: May 15,2022.
Lecturers involved:
Demian Battaglia (LNCA,CNRS,Université de Strasbourg)
Samuel Garcia (CRNL, CNRS, Université de Lyon)
Romain Goutagny (LNCA,CNRS,Université de Strasbourg)
Axel Hutt (MIMESIS,INRIA, Université de Strasbourg)
Philippe Isope (INCI, CNRS,Université de Strasbourg)
Arvind Kumar (KTH, Stockholm, Sweden)
Christophe Pouzat (IRMA, CNRS, Université de Strasbourg)
---
Informations pratiques
Ouverture

9- 6 PM
Lieu

Université de Strasbourg, France
Public cible

Master and PhD students from the University of Strasbourg and other French and foreign universities are welcome to apply.
Moyens de paiement

Free registration
ÉCOLE DE RECHERCHE TRANSLATIONNELLE EN NEUROSCIENCES 2022
En partenariat avec le GIS Autisme et troubles du Neuro-developpement, l'ITMO NNP offre une opportunité unique aux jeunes cliniciens ou chercheurs de s'immerger dans le monde de la recherche translationnelle en Neurosciences.
Cette école est ouverte aux chercheurs récemment recrutés (depuis 2020) dans l'un des organismes de recherche membres d'Aviesan (Inserm, CNRS, Université, etc…), ainsi qu'aux internes et chefs de clinique de spécialités en relation avec le cerveau/système nerveux (neurologie, psychiatrie, …).
Les frais de transport et d'hébergement seront pris en charge par l'ITMO NNP.
Voir le programme.
Retrouvez les détails et le dossier de candidature sur le site de l'ITMO NNP.
---
Informations pratiques
Lieu

Château de Suduiraut
33210 Preignac
8th European Synapse Meeting – Coimbra 2022
The 8th European Synapse Meeting, which will be held in Coimbra on the 20th and 21st of October 2022.
The aim of this meeting is to bring together junior and senior neuroscientists working on synapses and to provide a forum for new directions and ideas in studying synapses in the healthy and diseased brain. The meeting welcomes participation from all scientists within and outside the EU and will combine research lectures by leading neuroscientists, selected talks and poster presentations.
The program will provide multiple opportunities for interaction, during the poster sessions, lunch time and coffee breaks, providing an opportunity for disseminating the latest advances and for cross-disciplinary discussion and collaboration. The meeting will be held at the São Francisco Convention Center in Coimbra, a unique setting that combines history and the best of the Portuguese architecture, and which will certainly contribute to inspire your future research and foster partnerships to address novel and challenging questions.
We look forward to welcoming you in Coimbra for an exciting meeting!
Further information : https://esm-coimbra2022.cnc.uc.pt/
---
Informations pratiques
Lieu

Convention Center
Coimbra, Portugal
International Congress for FrontoTemporal Dementias
The city of Lille is pleased to host the 12th biennial congress of the ISFTD from November 2 to 5, 2022 in Lille Grand Palais after having been held in the cities of Syndey, Munich or Vancouver.
This congress, preceded by a symposium at the Paris Brain Institute, will be an opportunity to bring together clinicians, researchers, psychologists, nurses and students to advance the understanding of frontotemporal dementia.
This event will also be an opportunity for caregivers to meet on Friday, November 4th, for a day dedicated to them in parallel with the medical-scientific sessions.
For more information, please visit our website.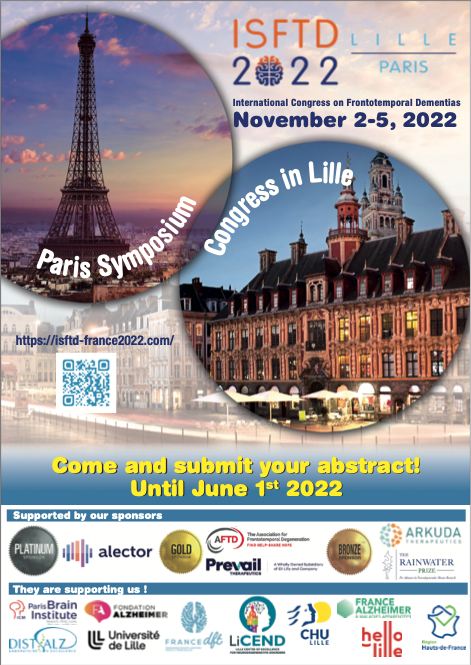 ---
Informations pratiques
Ouverture

From 8am to 7pm
Lieu

November 2: Paris Brain Institute
November 3 to 5: Lille Grand Palais
Public cible

Doctors, researchers, psychologists, nurses, students, caregivers
Moyens de paiement

Different fees are offered depending on student status, membership in the ISFTD learned society and the choice of attending the conference in person or remotely. For more information, please visit our website.